posted by

madelinekelly
at 03:51pm on 16/09/2014 under
ketchup
The plan this summer was to try and
do
something every day.It didn't have to be vastly exciting or different, but we didn't want to regret wasting all the free time. I think we managed it, anyway. It feels like months and months since last term -- a huge contrast to the way the first half of the year zipped by a lightning speed for me. The best decision we made was purchasing season passes to all the Manx National Heritage sites. We have now visited them all, and I've really enjoyed re-discovering them through River's eyes.
So in the final week of our holiday we managed to cram a fair few fun things.
-- Matt's youngest brother and his wife (visiting from England) came round and they all made pizza for lunch while I was out teaching.
-- We visited the Grove museum (a Victorian house with lots of its original furnishings etc) and had fun feeding sheep, playing with hula hoops and skipping ropes, drawing chalk pictures, and watching the bees in the upstairs hive.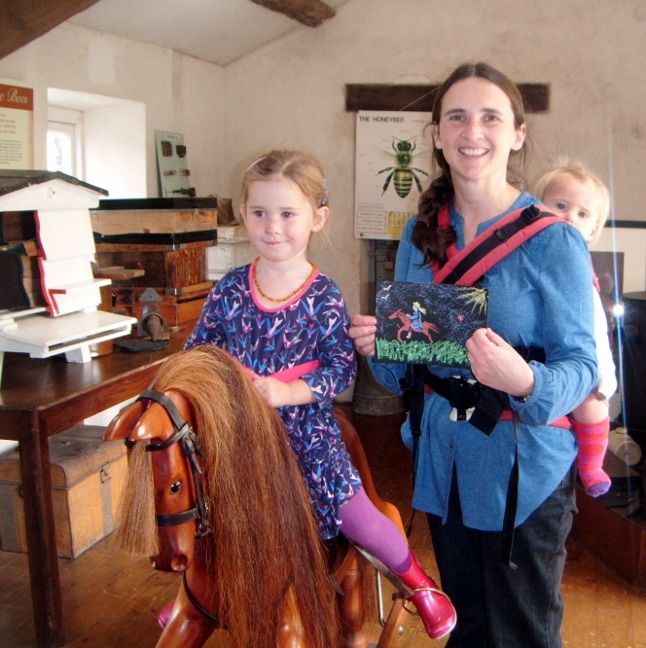 -- We had an impromptu picnic on a bench outside Glen Auldyn chapel. River was glad we weren't having a "clicnic" which is apparently when you eat your food in the car.
-- We explored the grounds and ruins inside Peel Castle. River climbed up a chimney!
-- We shared ice-creams and paddled in the sea on Peel beach.
-- We had lunch at a friend's house and Willow fed herself beautifully with a spoon.
-- River (in dragon costume) and I raced to Fenella beach to watch a spectacular pink sunset.
-- Matt and the girls spent a morning at his parents' house, and his sister brought her 4 children too so it was all a bit chaotic. I was out teaching.
-- I took the girls to a pirate-themed soft-play place and had a cup of hot chocolate with mum. Such indulgence! River went down the slide several million times, approximately.
-- I made roast chicken, chicken & chicory pasta bake, chicken caesar salad, chicken noodle soup, smoked salmon fishcakes, coleslaw, plum & mulled wine jam, plum chutney, damson jam, banana brownies, vanilla banana drop scones, coconut macaroons, cottage pie, vegetarian chilli, gooseberry crumble. Matt made macaroni cheese, Marmite snails and granary bread.
-- River and I dug up a lot of potatoes, found ripe tomatoes and raspberries, and gathered a huge tub of beans and peas at the allotment. And she and Matt had running races to the gate and back in the glorious late summer sunshine.
-- I scrubbed all the grease off the splashback behind the hob!
-- We had a spontaneous family music band thing with me and Matt taking turns on the ukulele, River on xylophone and Willow on maracas.
-- Mum and Roy came round and played with the girls for an hour.
-- I took the girls to a friend's house to play with her 2 daughters. It took River a long time to warm up, and there were a few tears, but she ended up having a lovely time bouncing on their bed (Willow too!) until a particularly big bounce brought the curtains down!
-- Matt and the girls went to the beach while I was teaching. River had fun playing with a neighbour's toddler foster daughter, and Willow had her first experience of crawling on wet sand. And he and River went on an exciting walk through a forest while Willow grizzled at home with me (teething).
-- We spent a morning at Mooragh Park in Ramsey: a picnic on the football field, fun in the playground, trying out all the grown-up outdoor gym equipment by the lake. River wanted to play in the water fountains but panicked when the water came on and wouldn't go in them. She said she'd try again when she was five.
-- Taking advantage of the gentle Indian summer, we headed north to the Ayres nature reserve and had a beautiful afternoon exploring the heathland, dunes and beach. Housemartins swooped all around us, bees buzzed over the heather, River drew pictures on stones, I made a stone snail picture, Matt looked for gannets, and Willow watched everything and tried to eat the sand. It was a glorious outing. Matt and I laughed properly, happily, uncontrollably -- for the first time in ages.
-- Willow can now stand, cruise, kiss, and crawl up the stairs.
-- And I discovered that my memory is actually a lot worse than I thought. I'm starting to get really worried by how much my thoughts slide around these days. Matt says he's sure I'll be back to my normal self once I'm able to sleep properly again. I hope he's right.
I'm back at work full-time now, and so glad that I prioritised family time over house/craft projects this summer. It's the first time I've ever felt like I didn't waste my long holiday. Hurray!
There are no comments on this entry.