We managed to do lots of things in the past two weeks:
- Matt took the girls for a picnic up Cronk-y-Voddy way (using River's little tin tea set in a suitcase) while I did a few piano lessons and weeded the greenhouse.
- On a particularly hot morning we walked along the old railway line south of Poortown towards St John's. River showed us how far away she could run and still be visible. Butterflies danced around our heads. It was totally peaceful.
- My mother, sister and sister's partner came for tea. River went from delightfully articulate and charming to whiny power games over food (which she seldom does). It's put us off inviting anyone to stay for a meal again for a while, anyway.
- I cleaned the oven, using bicarbonate of soda and a piece of Duplo. Matt did some scraping too. River polished the doors. And even Willow joined in by wiping inside the clean, wet oven with a teatowel.
- River washed the dishes!
- Willow and I had lunch at a cafe with my sister.
- We went to the Southern Agricultural Show (the "tent farm", according to River) and managed to bump into nearly all our closest friends and relatives. Matt and River road a steam-powered carousel, and River ate an ice-cream with sprinkles on it. We heard a ram with a super deep bleat, stroked a chicken, had a picnic, and spent nearly an hour trying to get out of the carpark field at the end. Lots of tears from both girls in the car, and a strong feeling that we might not go next year.
- We watched the Douglas Carnival and River was inspired by all the decorated bikes. So a fortnight later she wrapped her bike frame with dozens of pipe cleaners, donned her blue fairy dress and cycle helmet, and joined the parade in the Peel Carnival.
- We walked along the Neb river, saw tiny whirlpools and fish catching flies, threw stones in the water. River pretended to be an injured bird and maintained a convincing limp all the way home.
- I tidied up the shed, weeded the greenhouse and cabbage patch and just generally kept our allotment awesome.
- River and I went to the library.
- I took the girls to the Dragon's Castle (indoor soft play area with lots of levels to climb and several great slides), followed by a picnic in the gardens. River made a friend and the two of them had running/hopping/rolling/jumping/crawling races for an hour.
- We all went to Castle Rushen and explored the twisty staircases, ramparts and spooky rooms. Matt and River danced in the music room. Willow wanted to touch all the walls. River was freaked out by the waxwork bowman who shouted, "Who goes there?" as we walked into the keep, but she decided to be brave about him when we passed him on the way out. After, we had a windswept picnic on a bench on the street where we used to live.
- On Wednesday River woke up from her nap full of enthusiasm for maggots. She spent an hour role-playing as a maggot that grew into a fly that in turn laid eggs that became a new baby maggot. (Game inspired by a plastic bag of spoiled potatoes that I'found in our veg box the previous week. The slimiest potato was covered in maggots, which River and I both found disgusting and fascinating.)
- We climbed Peel Hill on a sunny, breezy morning and smelt the heather and gorse. River must have climbed it twice during the walk as she kept rolling down the hill and running up again.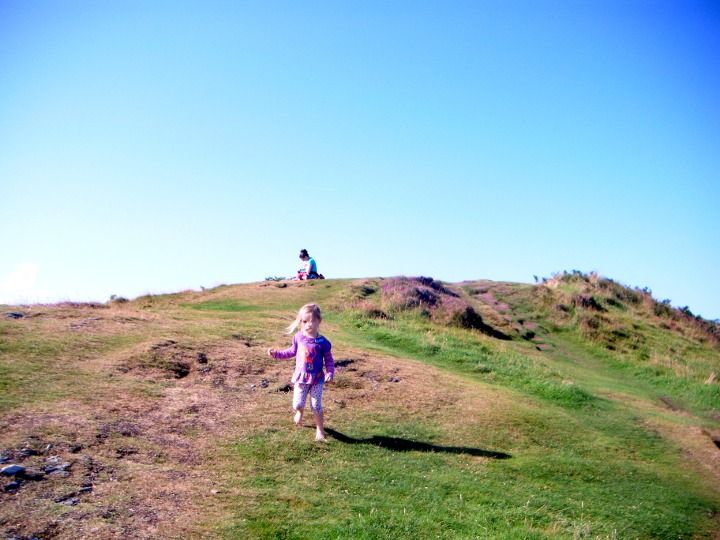 - After nearly 4 years of breastfeeding, I'm getting pretty casual about doing it in public. Honestly, I was glad to have an excuse to sit down at the top of that hill!
- We all went for a walk around the outside of Peel castle, River pushing her puppy toy in the little pram all the way around. Spotted a little shoal of baby fish in a big rockpool and one seal bobbing in the sea.
- It was the Royal Agricultural Show yesterday so we spent the morning there. I loved seeing the donkeys and roosters and pygmy goats and shire horses and loaghtan sheep and happy people everywhere. We all enjoyed the sheepdog demonstration. And River learnt a few new tricks from the stunt horse riders, which she spent the afternoon perfecting on her rocking horse.
- After watching
Two Greedy Italians
one evening, River requested that we have pheasant for tea one night. So I bought a little pheasant from the butcher and did a pot-roast pheasant with mashed potato. It was delicious, actually. And the pheasant also provided meat for a salad the next evening, and a stock/broth the day after that.
- I've also made -- among other things -- sausage rolls, cheese straws, crusty bread, boiled ham, barbecue chicken drumsticks, raspberry flapjacks, raspberry muffins, trifle, vegetable crumble, rhubarb & custard, smoked salmon fishcakes, and granola. It's such a treat for me, to be doing so much cooking.
- We managed to find time for Matt to get up into the attic and fit the newel posts for the handrail. He's also started making skirting boards in the kitchen! The kitchen is a disaster, much like the bathroom. Too many tiny cupboards, handles that stick out and snag on our clothes, laminate floor for one part of it, horrible plastic tiles glued to concrete for another part, and bare concrete for the rest. No skirting boards, so the pipework is all exposed along the base of the walls. Some of the tiles on the wall haven't been grouted. One wall and the understairs cupboard are just bare plasterboard. There's no space to move in there. The ceiling is dark green (!), the units are dark wood. We hate it, basically. So it's going to be wonderful seeing some improvements in there. I am ever hopeful.
- And we visited the House of Manannan and had a great time with the Art Nouveaux letter stencils. This trip later inspired lots of role-playing with Matt being Manannan protecting the island with mist, and me being Fenella (a statue at the foot of Peel Hill) protecting Peel specifically.
It's been a great summer so far.